Each company and organization has a unique corporate identity, which encloses important concepts, such as the corporate philosophy, the vision, the mission and the corporate values ​​of the company. Corporate identity has a direct impact on the operations of the company, both current and future. It affects many different areas such as recruiting, commercial strategy, internal communication, collaboration, customer service, etc. In an ever-changing world, the establishment of a corporate identity is crucial to the company's sustainability and corporate image (brand image).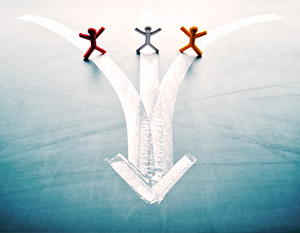 Winning has developed a methodology in which we facilitate the participants not only to identify accurately the corporate identity of their company, but also to validate it as well.

Throughout this intervention, Winning acts only as a "facilitator", meaning that our interventions are strictly limited to extracting and recording ideas, explaining instructions given and clarifying anything that is needed. It is the company's senior management who have the responsibility to ultimately decide on the exact wording of the corporate identity and its components.
What differentiates us
we do not "impose" our own ideas and thoughts on what the corporate identity should be like. Instead, this is the exclusive "product" of the executives who actively participate in this project
we have developed questionnaires which validate each part of the corporate identity (corporate values, vision, etc.)
we collect, analyze, and process all data using specific tools
we present our findings to the top management along with ways to enhance the dissemination of the corporate identity within the company
What are the benefits
creating a distinct corporate identity that is well accepted
gaining a clear view of the areas in which the company needs to focus its strategy
creating a sense of pride, achievement and excitement among the executives who have contributed into developing the company's corporate identity
creating a sense of commitment among these executives to work towards accomplishing the vision of the company using the specific guidelines defined in the mission
creating increased motivation
creating a positive work environment
fostering improved productivity